This article, 'Japan Visa Application: A Guide for Philippine Passport Holders,' details the visa application process for Japan. It has a comprehensive list of requirements essential in obtaining a Japan visa.
Disclaimer:  Some information in this guide changes too often. If you continue reading this article, you agree to cross-check information with the concerned authorities. Please read the site's full Terms.
Disclosure: This post may contain affiliate links. And I earn a small commission at no extra cost to you for the purchases made through these links. Thank you!
As of this writing, Philippine passport holders can travel up to 37 visa-exempt countries and territories, including Singapore. However, Japan is not yet on the list thus, Filipino citizens need to apply and secure a Japan visa.
Did You Know? The Japanese passport is among the most powerful passports in the world. Holders of Japanese passport can travel to more than 140 countries and territories without a need for a prior visa.
My plan to visit 'the Land of the Rising Sun' was long-overdue because of fear of entry refusal. However, the fear turned into immense joy and fulfillment after the approval of my long-awaited Japan visa application.
The global tourism was disrupted due to COVID-19 pandemic. However, on September 2022, I applied for Japan tourist visa when the country reopened its doors to foreign visitors.
Applying for a Japan visa is not as complex as some other visa applications. Moreover, personal interviews is not even required as long as your purpose of travel is supported by valid and complete requirements. Here is an in-depth guide for Japan visa application process:
1. Decide the type of visa to apply
The Visitors International Stay Admissions, or VISA, is an official endorsement placed in a passport. It grants permission to the bearer to enter, leave, or remain within a length of time in a foreign country.
Like in many other countries, Japan also offers various visas depending on the purpose of the travel. Hence, foreign citizens may apply for a tourist, transit, student, work, business, and etc. as entry requirement to Japan.
This article is intended for Filipino citizens, residing in the Philippines who have intention to travel for tourism in Japan. While Japan also grants multi-entry tourist visa, single-entry visa will be the focus of this guide.
2. Gather all visa requirements
Application for a Japan tourist visa does not require in-person interviews unless advice to do so. However, an applicant must ensure that all the submitted visa requirements are bona fide, complete, and accurate.
Insufficient and erroneous documentations may impede the application process and in worst case visa denial if fraudulent requirements are detected. Here are essential Japan tourist visa requirements to gather before the intended trip.
The Philippine Passport is an official document issued by the government of the Philippines to its citizens, which indicates the bearer's identity. It authorizes holders of a Philippine passport to travel to a foreign land under its legal protection.
As the primary requirement for Japan visa application, it is important that:
The Philippine passport must be in its good condition or in the absence of any damages such as tears, folds, tampers, markings, etc.
It must be valid for at least six months from the intended departure.
The passport book must have at least two remaining blank pages.
Signature of the bearer must be affixed on the third page of the passport.
The 'Visa Application Form to Enter Japan' is a documentation, which records the applicant's personal and travel information. Data requested on the form are the applicant and guarantor's details and background checks.
As for multiple applicants, like family members traveling as a group, applicants data must be reflected on the 'List of Visa Applicants' form. Either of the parents, or any members who can finance the travel, may serve as representative. Download 'List of Visa Applicants'.
The Japanese are keen to every details. Thus, make sure that all information asked in the 'Visa Application Form to Enter Japan' are completely and rightly answered. Here are some important reminders.
It is necessary to print out application form, or the duly accomplished form, in A4 size bond paper. Third-party travel agencies also provide a printout of the form. Otherwise, download the 'Visa Application Form to Enter Japan.'
Handwriting is allowed. However, the details must be written legibly using a black ball pen, and as much as possible free from erasures. Moreover, the texts are capitalize and don't use erasable pens.
Put the abbreviation 'N/A' in all fields if the items are not applicable or non available to the applicant. Do not leave each items blank.
Affix signature and the application date once the form is carefully filled out.
In case of multiple accommodations, list the names and contacts in an A4 size bond paper.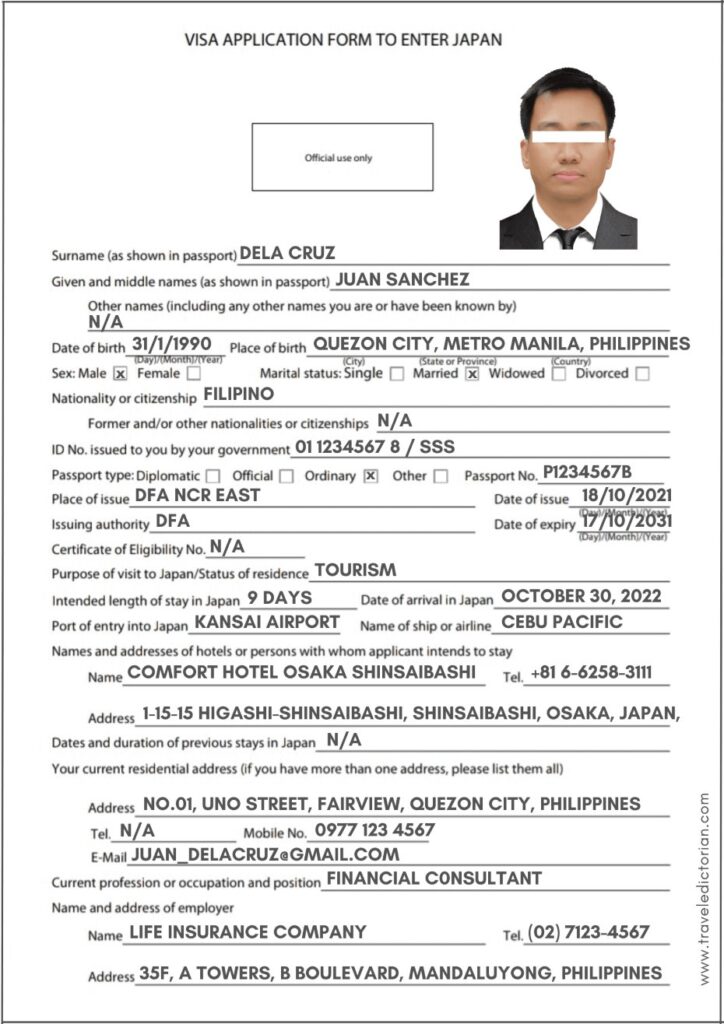 A sample of a duly accomplished 'Visa Application Form to Enter Japan.' 
The applicant's headshot photo is an essential requirement when applying for the Japan visa. A copy of which will be used for Japan visa sticker once the visa application is approved. However, the applicants must conform with the photo specifications.
The photo must be recent and taken in the past six months.
Dimension of the headshot photo must be  45 mm x 35 mm, or 2 in x 1.4 in.
Photo must be in color and taken in a plain white background.
The image must be high resolution and not pixelated.
Write down the applicant's complete name and birth date at the back of the photo.
Do not staple the photo. Instead, attach the photo on the upper right corner of the 'Visa Application Form to Enter Japan' using a glue.
An applicant must secure a copy of his/her birth certificate for identification purposes. Here are few guidelines.
Obtain a copy of certificate of live birth from Philippine Statistics Authority, or PSA, Main Office in Quezon City. Or, in any PSA Serbilis Centers nationwide.
It must be issued within a year.
This document must be a PSA-certified true copy.
Japan visa application tip: The applicant may also submit supporting evidences if certificate of live birth is found;
Unreadable or incomplete – forward a copy of PSA-issued true copy of birth certificate and a certificate of birth from the local civil registry.
Late Registration – provide a baptismal certificate and academic records with complete contact information such as address and telephone numbers of the concerned institutions.
No record found at PSA – submit a PSA certificate of no record and copy of the birth certificate from local civil registry.
A marriage certificate is among the essential Japan visa application documents for married applicants. An applicant must comply to these guidelines.
Get a copy of marriage certificate from PSA Main Office in Quezon City or any PSA Serbilis Centers.
It must be issued within a year.
This document must be a PSA-certified true copy.
In the absence of records, applicant needs to submit a copy of certificate of no record from PSA. In addition, secure a copy of the marriage certificate from the local civil registry.
Japan visa application reminder: A birth certificate and certificate of marriage is no longer required once issued with a Japan visa. But the latter is necessary if you are re-applying for Japan visa through a sponsor or guarantor as evidence of relationship.
Prepare a summary of planned activities that includes the things to do and sights to visit. It is important to prepare a simple and easy to understand day-to-day schedule of your events. Hence, to prove that the trip is solely for leisure.
The details of flights and accommodations are relevant in the itinerary. However, you don't have to book or make your reservation yet. Instead, you may search for the details of the intended flights via Skyscanner and check availability of accommodations through Agoda.
Download 'Itinerary in Japan' form and check a sample Daily Schedule of Activities for Japan. Moreover, read our comprehensive 9-Day Japan itinerary, commencing from Osaka.
Japan is among the countries with highest cost of living. Hence, it is essential that the applicant has resources or the financial means to support his/her travel. Unless, he/she has a sponsor or guarantor.
A bank certificate is an evidence of applicant's financial capacity. However, it must satisfy the following requirements.
It must be issued in the last three months.
A copy of the bank certificate must be original and signed.
The certification must state the holder's name and account number. In addition, the account opening date, recent available balance, and the average daily balance must specify in the document.
Japan visa application tip: The Embassy of Japan does not vouchsafe a minimum sum of money one must-have in a bank. But the sudden deposit of a large amount of money is deemed suspicious, which could possibly resort to the application's refusal.
Employees, professionals, entrepreneurs, and business owners must provide a copy of their BIR annual income tax return. This certification serves as proof that applicant has an income source and has intention of returning to his/her home country.
Employed individuals must submit a copy of BIR Form 2316, or the Certificate of Compensation Payment/ Tax Withheld.
It must be the most recent issued copy.
Make a clear photocopy of the form in A4 size bond paper.
Japan visa application tip: All Employed individuals without an income tax return must submit a certificate of employment and latest salary slips. The employment certificate must indicate the position held, service length, salary, and contact details.
Although not required, it is important to have a supporting cover letter, asserting the reason/s of the ITRs absence.
Professionals, entrepreneurs, proprietors, and independent contractors are required to submit their BIR Form 1701, or the Annual Income Tax Return.
The annual income tax return must be the latest one.
Provide a clear photocopy of the form in A4 size bond paper.
Japan visa application tip: All business persons who are unable to provide their income tax return must submit supporting documents. These includes DTI-issued business registration and permits, SEC registration certificate, and transactions receipts. Moreover, accompanying letter is important to detail the absence of the ITR.
Moreover, independent contractors such as freelancers must provide copies of their transaction receipts and pay slips. In addition, the applicant may also attach a letter of explanation if unable to submit an ITR.
With regards to individuals such as minors, students, seniors and out of a job spouses, you may apply for a sponsorship. A sponsor, or guarantor, is an individual or institution who has resources and capacity to finance someone's travel expenses. Moreover, adheres to Japanese laws and directives. They can be an immediate member of the family, friend, relative, partner, or company.
Here are additional requirements for individuals, applying for a sponsor or guarantor.
A Guarantee Letter for Japan is a written form in which a person, or an institution, warrants to be financially liable and legally accountable on behalf of the grantee. This form set down the personal data of the applicant/s and guarantor, including their relationship.
The duly accomplished form must be printed in an A4 size bond paper. Third-party agencies provide a printout of the form. Or, download 'Letter of Guarantee' form.
Otherwise, accomplish the form using an indelible black ink pen. But, the details must be readably written and as much as possible erasures free.
Place the abbreviation 'N/A' in the spaces provided if the items are not applicable or non available. Avoid leaving an item blank.
Affix signature, or stamp the company official seal, and the application date once the form is correctly filled out.
A sample of a duly accomplished 'Letter of Guarantee' form.
An applicant must provide an evidence, or proof, of your relationship with the guarantor. If the sponsor, or guarantor, is family related, furnish a recent copy/ies of his/her birth and/or marriage certificate.
Certifications must be issued within a year.
The documents must be a PSA-certified true copy.
Moreover, submit photos and screen grabs of a long-established chats or emails if the sponsor, or guarantor, is a friend or partner.
Proof of Financial Capacity
The sponsor, or guarantor, must prove that he/she has the capabilities to fund someone's travel expenses. Thus, the applicant needs to submit a most recent and original copy of the sponsor, or guarantor's, bank certifications. In addition, provide a recent and duplicate copy of the guarantor's income tax return to prove his/her financial capacity.
The Embassy of Japan in Pasay City does not accept in-person visa applications, except for special instances. Thus, requirements must be submitted through an accredited third-party travel agency, including Attic Tours Philippines, Inc. and Reli Tours and Travel Agency. These agencies are authorized to administer collection and processing of visa applications.
Although a Japan visa is free, these agencies charge a handling fee, from PHP 950.00 per applicant. Regardless of the result, the amount paid cannot be refunded.
Want worry-free online processing of your visa and other travel documents, visit iVisa.com to know more!
Japan visa application reminder: Bring original copies of duplicated documents such as ITR for verification purposes. But, keep those copies as the Embassy of Japan will no longer return all submitted documents.
Moreover, the agency will also let you sign an 'Authorization Letter,' authorizing the embassy to conduct validation on the PSA submitted documents
4. Wait for the Application Result
The processing time for single-entry tourist visa application is five to seven business days. However, processing time may shorten if there are no arising issues. Moreover, a request for further requirements may prolong if documents are inadequate and/or inconsistent.
Thus, it is essential to proceed application at least a month before the planned travel. Expect a text message, phone call, or electronic mail from the agency once your passport is ready for pick up.
Besides the black and white barcode label attached at the back of the passport, a visa sticker on the page indicates visa approval. On the other hand, a barcode label in a red background signifies visa denial. In case of unsuccessful application, an applicant can re-apply after six months.
The Embassy of Japan does not disclose the causes of someone's ineligibility of getting a Japan visa. Other than insufficiency of funds, unsteady employment status and inconsistent documents; the absence of travel history likely contribute to visa refusal. Thus, establish travel history and visit to visa-free countries such as Thailand and Vietnam.
A sample of a Japan visa sticker placed in the passport page. 
Here are additional information:
What is the application process for Japan visa?
Decide which type of Japan visa you wish to apply, e.g. tourist visa.
Gather all essential visa requirements.
Submit all the documents to preferred agency who will process the application and pay the corresponding handling fee.
Wait for the application result.
Claim the passport.
When is the earliest time to apply a Japan visa?

Two months before the intended travel is ideal to commence your application. This is to ensure that you have a considerable leeway to correct arising issues with your application while in process.
What is the period of validity of a Japan tourist visa?
The period of validity for a visa is the interval between the issuance and expiration of a visa. Applicants for a short-term stay visa such as tourist visa are granted certain amount of time to stay in a country.
Single-entry Japan tourist visa. Grants entry to Japan once within a period of 90 days, commencing from the day the visa was issued. However, you are only permitted to stay for a maximum of 15 days.
Multi-entry Japan tourist visa. Allows you to enter Japan more than once and effective for 3 or 5 years from the day the visa was issued. A visitor can only stay not more than 15, 30 or even 90 days – a discretion of the embassy
Japan visa application tip: There are no certain rules as to how often a multi-entry visa holder can visit Japan. But, it is a rule of thumb to travel intermittently so that the immigration cannot cast doubt on the specified travel intent.
Can I attach other documents besides primary requirements?
An applicant may provide other documents like stock certificates, land titles, insurance policies, and etc. to support their financial capacity. A student may submit a certificate of enrollment and any academic records to prove ties in home country.
Is cover letter required for submission?
No. However, writing an accompanying letter is beneficial to discuss further details about any concerns in your application. E.g. explaining the reasons of unsubmitted documents.
Can the first-time visitor to Japan allowed to apply for a multi-entry Japan tourist visa?
Yes, as long as the applicant is eligible. The applicant, or person's next of kin, has a strong financial capacity and overmuch resources. An established travel history also increases one's chance of getting a multi-entry Japan tourist visa.
However, I suggest applying for a single-entry visa when visiting the country for the first-time.
Is it necessary to purchase flight tickets or make hotel reservations prior to application?
At your discretion. However, the Embassy of Japan does not encourage buying a plane ticket or make a hotel reservation prior to the visa application. The embassy will not be held liable for the unused flights or hotels once a visa is denied.
What is the required amount of money one must have in a bank?
While financial capacity is a consideration when applying for a Japan visa, the Japan Embassy does not disclose certain amount. Make sure that the money you have in the bank is sufficient to cover your expenses during the entire trip.
Japan is an expensive Asian destination. Hence, funds must correspond with the country's high-cost of living. Also, savings must be dependent on number of intended days to spend in Japan.
If traveling as a group, is it necessary that all the applicants are present when filing for visa applications?
Not necessarily. Designate your representative applicant to file the applications in behalf of the group. However, make sure that all individual requirements are complete and accurate so as to avoid the hassles upon application.
For applicants who cannot attend the filing of applications, prepare authorization letters and valid identification cards.
Can I submit requirements via a courier?
Yes. You may submit all requirements through a courier. For further information, contact the preferred travel agency.
In a nut shell, the Embassy of Japan has laid out important considerations other than the physical visa requirements. It is not enough that the applicant is capable to provide the required documents. But proving someone's eligibility to obtain a Japan visa is a different story. 
But before departure, passengers must undergo stringent immigration procedures. Read the article, 'How to Avoid Getting Offloaded at the Philippine Immigration?'
J. Sac is the author of 'Japan Visa Application: A Guide for Philippine Passport Holders.' He is also the founder of Traveledictorian – a travel blog that publishes well-crafted travel content. 
His passion for writing, photography, and travel fueled him to explore parts of Asia and soon the rest of the world. He also plans to undertake humanitarian work in his future travels. Read his inspiring story and follow him on social media!
P.S Subscribe to our newsletter for the newest travel guides and the latest updates in the travel industry.