This Batanes Travel Guide helps you make the most of your three days on the island. It features a well-crafted travel itinerary and a detailed budget for the trip. 
Disclaimer: Some information in this Batanes Guide changes too often. If you continue reading this article, you agree to cross-check information with concerned authorities. Please read the site's full Terms.
Batanes is a perfect getaway from the hectic metropolis. The remote yet breathtaking island province in the northernmost of the Philippines convinced me to take a quick escape. 
A shady and showery afternoon didn't stop me from exploring Batanes' panoramic views. From the enthralling sceneries of Batan Island to the unspoiled island of Sabtang, Batanes is indeed a paradise on Earth. Apart from its appeal is the kindness and hospitality of the Ivatan people that is worth admiring. 
The outlying island of Batanes became my temporary refuge from the hustle and bustle of the city. Although noticeably small, the island offers a vast space to find peace for yourself. 
Batanes Travel Guide Contents
Disclosure: This post may contain affiliate links. And I earn a small commission at no extra cost to you for the purchases made through these links. Thank you! Please read the site's full Disclosure.
The outlying island of Batanes is considered the smallest province in the Philippines, with a land area of 230 square kilometers. This hilly and mountainous province constitutes ten chains of islands, and only three are inhabited. 
Batanes has a tropical climate. The archipelagic province experiences pleasant temperatures and a period of rains that might occur any time of the day. 
Best Time to Visit Batanes
The month of August is prone to downpours and typhoons that could suspend flights and impede outdoor activities. Hence, it's a must to consider the weather condition before visiting Batanes. 
The months of December to February are the perfect months to experience wintry weather in Batanes, especially in January. 
Considered the best time to visit Batanes, March to May has fair weather and comfortably warm temperatures. Visitors may expect fewer rains, which is ideal for outdoor activities. 
The month of June until November is the wet season in Batanes. Visitors may expect a higher chance of rains and a considerable amount of typhoons during these months. 
Batanes Travel Guide Fact: The traditional houses in Batanes are commonly built with stones and designed to resist harsh weather conditions. 
Ivatan or Chirin Nu Ivatan is the widely spoken language in Batanes. Aside from Ivatan, locals also speak Ilocano, Tagalog, and English.
Here are essential Ivatan words and phrases to learn before your trip to Batanes, Philippines.
Kapian ka pa nu Dios – Hello
Dios mamajes – Thank you
Ara ka mangu? – How are you?
Angu ngran mu? – What's your name?
Ara dino si? – Where is it?
Diretso – Straight ahead
Ara kadnu? – Where are you?
Diaya – Here
Manyi pira? – How much?
Pira? – How many?
Maynin – Expensive
Makey ako no – I want
The Philippine Peso is the official currency in Batanes, Philippines. Exchange rate as of June 20, 2022: PHP 54.10/ USD 1. 
Mode of Payment in Batanes
Cash is the only accepted mode of payment in Batanes. In case you run short of cash, the town of Batan has ATMs like PNB and Landbank.
Way of Getting to Batanes
Batanes is the northernmost island province of the Philippines. Due to its remote location, the more convenient way to reach Batanes is via air. Most local airlines offer direct flights to Basco from Pasay, Clark, and Tuguegarao. 
Batanes Travel Guide Fact: Batanes is closer to the southernmost tip of Taiwan than the northernmost tip of Cagayan, Philippines. 
Cebu Pacific and Skyjet offer a direct flight from Ninoy Aquino International Airport to Basco Airport and vice versa. The flight hours between Manila and Batanes are roughly 2 hours and 20 minutes.
Philippine Airline Express offers a direct flight from Clark International Airport to Basco Airport and vice versa. The flight hours from Pampanga to Batanes is around an hour and 40 minutes.
Batanes Travel Guide Tip: If coming from Manila, P2P buses are available in NAIA Terminal 3, Robinsons Galleria, and Trinoma. The journey from Manila to Clark lasts for 2 hours while the fare starts at PHP 250.00 or USD 4.76.
Regional commercial airlines like Sky Pasada and North Sky provide direct flights to and from Batanes. It requires an hour to reach Batanes from Cagayan.
This Batanes Travel Guide requires 18 minutes of reading. If you can't make it this time, read it later. But please save this pin. 
Batanes is relatively small, and its main island only requires a day to circle its entirety. To explore Batan, several means of transport are available for transfers and tours. 
Moreover, Sabtang and Itbayat are accessible from Batan using boats and private planes.
The 2-3 seat capacity cogon-roofed trikes serve two purposes; transfers and tours. To avail of the service, the Batanes Tricycle Operators and Drivers Association or BATODA oversees the tricycle activities in Batanes.
Visitors may reach them at this number +63 929 7038 404. Below are the trike rates for two:
For transfers, the fare starts at PHP 30.00 or USD 0.57 for short-distance trips and PHP 50.00 or USD 0.95 for farther destinations.
Visitors may avail of a day tour service for PHP 1,000.00 or USD 19.56 for North Batan and PHP 1,500.00 or USD 29.34 for South Batan. Moreover, the Sabtang tour costs PHP 1,350.00 or USD 26.40.
If you can endure the uneven terrain of Batanes, chartering a bicycle is an option. The rental fee for the regular two-cycle transport starts at PHP 25.00/ USD 0.48 per hour or PHP 300.00/ USD 5.71 per day. 
Also, licensed drivers can rent a motorcycle for PHP 500.00 or USD 9.52. 
Public jeepneys in Batan operate daily but on a limited schedule from 5:00 am until 5:00 pm only. Jeepney routes passengers from Basco to its neighboring towns of Mahatao, Ivana, and Uyugan.  
Chartering a private van is recommended for a group of travelers wanting convenience in exploring Batan. The guided tour includes lunch, snacks, and fees. Van rental fee starts at PHP 4,000.00 or USD 76.16.
Ivatan traditional boat or faluwa is a passenger transport used to cross to the other islands of Batanes. The schedule is once daily and leaves Ivana Port early in the morning. 
Route: Batan – Sabtang – Batan. Departure in Batan: between 6:00 am to 7:00 am. Leaves in Sabtang: between 1:00 pm to 2:00 pm. Travel time: roughly 45 minutes. Fare: PHP 100.00 or USD 1.90 for each way.
Route: Batan – Itbayat – Batan. Departure in Batan: between 6:00 am to 9:00 am. Leaves in Itbayat: between 11:00 am to 2:00 pm. Travel time: approximately 4 hours. Fare: PHP 450.00 or USD 8.57 per way. 
Batanes Travel Guide Reminder: The waters of Batanes are known for turbulent waves. For that reason, passengers may likely experience motion sickness while aboard. 
Flying in a limited-seat private plane offers a faster and more convenient way to reach Itbayat. Although expensive for its price, the journey between these two islands may take roughly 15 minutes. The cost per flight is PHP 1,800.00 or USD 34.27.
Batan, Sabtang, and Itbayat are the inhabited islands in Batanes. Because of its rural-rustic setting, most accommodations are simple homestays and guesthouses.
The island of Batan is the gateway to Batanes and the center of commerce in the province. Alongside shops and eateries are homestays and guesthouses. 
North Batan and South Batan separate Batan Island. The former is home to the scenic views of Valugan Boulder Beach and Vayang Rolling Hills. While the latter boasts the landscape of Marlboro Country. 
The island of Sabtang is less than an hour boat ride from Batan. This equally appealing island is home to the well-preserved Chavayan and the Savidug villages.
Unlike in Batan, homestays and guesthouses are rare in Sabtang. Visitors who wish to spend a night in an Ivatan stone house may secure an early reservation before arrival. 
The deserted island of Itbayat is home to not more than two thousand Ivatan residents. Like in Sabtang, accommodations in Itbayat are few, and visitors must arrange a homestay earlier.
The largest island in Batanes provides several spotless spots like the Rapang Cliff and the Torongan Cave.
Like some remote islands in the Philippines like Siargao, visitors may expect a not-so-stable internet in Batanes. Otherwise, disconnect, free yourself, and relish the sereneness of the isle.
Batanes operates on a 220v supply voltage with a frequency of 60 Hz and has one type of power adaptor:
A or has two flat parallel pins
Batanes Travel Guide Itinerary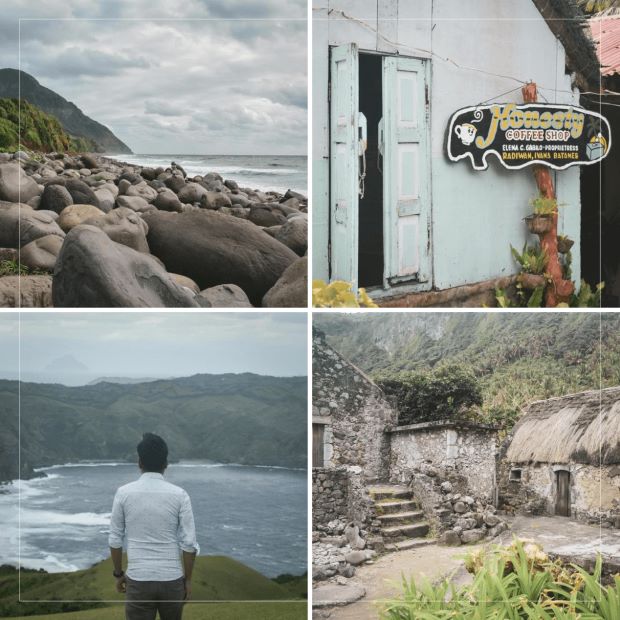 10:20 am – 12:00 pm Flight to Basco
12:00 pm – 02:00 pm Arrival at Basco Airport, register and settle the Eco-tourism fees, head to accommodation, have lunch
02:00 pm – 05:30 pm Explore North Batan
Batanes Travel Guide Tip: Batanes is home to North Batan's Valugan Boulder Beach, Sabtang's Savidug Village, and South Batan's Marlboro Country. To see up close these incredible spots, check out available tours for added convenience.
Want to experience the enthralling island of Batanes so soon? Book a private tour for three days or two days. Otherwise, join other travelers as you explore the island on a two-day countryside escapade. 
02:00 pm – 05:30 pm Explore North Batan
Also known as Tukon Church, Mount Carmel Chapel was built in 2008 using stones that resemble a traditional Ivatan house. The small church is perched at the hilltop and positioned overlooking the West Philippine Sea and the Pacific Ocean.
PAGASA Tukon Radar Station
The PAGASA Tukon Radar Station serves as a reference point for weather occurrences in the country. Its distinct location offers spectacular panoramic views of the surrounding areas. 
Fundacion Pacita Nature Lodge
Sited within lush foliage, the Fundacion Pacita Nature Lodge is the only lavish accommodation in Batanes. This lodging-house highlights the artworks of Pacita Abad, a world-acclaimed Ivatan visual artist. 
Idjang is a fortified shelter built at the top of a hill or a mountain. The Ivatan fortress serves as a defensive position against the attacking enemies. 
Dipnaysuhuan Japanese Tunnel
The Dipnaysuhuan Japanese Tunnel is a five-door passageway, which serves as a hideout for Japanese soldiers during World War II. 
Located on the east coast of Batan, Valugan Boulder Beach is a striking seaboard filled with gigantic boulders. These jagged rocks were expelled from nearby Mount Iraya and were smoothened through the process of rock abrasion.
The rolling hills of Vayang offer spectacular views of never-ending waves of rolling hills and verdurous pastureland. 
The Mountain of the Winds or Mount Iraya is Batanes's highest point, measuring 1,009 meters above mean sea level. This thickly forested active volcano in Batan has recorded its last eruption in 1454.  
Naidi is an old settlement where the American Era wireless telegraph and Basco Lighthouse are sighted. 
Constructed in 1783, Our Lady of Immaculate Conception Cathedral or Santo Domingo Church is the oldest Catholic church in Batanes. It was named after Santo Domingo de Guzman, the patron saint of Basco. 
05:30 pm – 07:30 pm Head to accommodation, have dinner
07:30 pm Sleep
05:15 am – 06:00 am Head to Ivana Port
From accommodation
Take the private-hire van/tricycle
Alight at Ivana Port
Batanes Travel Guide Reminder: Reserve a round-trip faluwa ride beforehand as the boat can only accommodate limited passengers. 
06:00 am – 06:45 am Head to Sabtang Port
From Ivana Port
Take the faluwa
Alight at Sabtang Port
Take the private-hire tricycle
Alight at Sabtang Tourism Office
06:45 am – 01:00 pm Register and settle the Sabtang tourism fee, explore Sabtang Island, have lunch
The Sabtang Lighthouse is one of the three remaining working watchtowers in Batanes and the lone beacon on the island. This stone-walled lighthouse has a round tower deck topped with a red-painted dome.
Ahaw Arch and Morong Beach
Morong Beach highlights a striking rock arch formation sitting under the pale-cream sands. 
The Savidug Village is a small community in Sabtang known for its traditional Ivatan stone houses. These old houses were built using indigenous materials like corals and limestones and designed to resist harsh weather.
The hamlet is also home to the old beaterio and the Saint Thomas Aquinas Chapel. 
Batanes Travel Guide Tip: Your visit to Batanes Island would not be complete without wearing their traditional Ivatan costumes. It includes Ivatan headgear and clothes like Kanayai for men and Vakul for women.
Tinyan Viewpoint and Chmantad Cove offer a sweeping yet striking landscape and seascape views. 
Said to be the birthplace of Ivatan heritage, the secluded Chavayan Village is known for its rows of stone houses. It is also the residence of the Sabtang Weavers Association and the cogon-roofed church, Santa Rosa de Lima Chapel.
San Vicente Ferrer Church
Also known as Sabtang Church, San Vicente Ferrer Church is a Roman Catholic church located near Sabtang Port. The 18th-century church was devoted to the island's patron saint, Saint Vincent Ferrer. 
01:00 pm – 01:45 pm Head to Ivana Port
From San Vicente Ferrer Church
Walk toward Sabtang Port
Take the faluwa
Alight at Ivana Port
01:45 pm – 05:30 pm Explore South Batan
From Ivana Port
Take the private-hire car/tricycle
Alight at San Jose El Obrero de Ivana Church
San Jose El Obrero de Ivana Church
The San Jose El Obrero de Ivana Church or Ivana Church is a Dominican church erected in 1784. It is the only Catholic church in Batanes with a separate campanile.
Ivana Tuhel Bridge is a Spanish bridge built in the 1800s using lime mortar and stones. This 12 meters long and 3 meters wide platform is still passable and in a good physical state. 
The House of Dakay is considered the oldest Ivatan stone house. Erected in 1887, the late Luisa Estrella built the house and bestowed it to his nephew, Jose Dakay Estrella. 
The last descendant of the Estrella clan named Florestida Estrella inherited the house. Lola Ida is the most photographed local in Batanes. 
Established in 1988, the Honesty Coffee Shop is an unmanned store that relies on the honesty of its visiting guests. A couple named Jose and Elena Gabilo owns the store offering locally-made goods. 
Alapad Hills and Rock Formation
Located in the coastline of Batan, Alapad Hills and Rock Formation offer an unhindered view of the expansive Pacific Ocean. Witness the striking Alapad Pass and several 'Blow Ur Horn' signs as visitors approach their next stop. 
Barrio Imnajbu is the cradle of Christianity in Batanes. According to some, the grounds of San Lorenzo Chapel became the venue of the first mass and baptism in Batanes. The small church was devoted to the first Filipino saint, Saint Lorenzo Ruiz. 
Constructed in 1953, the LORAN or Long Range Navigation Station is an American Era naval base for maritime navigation. The government plans to convert the former base into a museum exhibiting the heritage of Batanes. 
Known as Marlboro Country, Racuh A Payaman resembles a vast grassland featured in the 90s cigarette advertisement. The rolling hill located in Mahatao is probably the most photographed spot in Batanes.  
Constructed in 2000, the Tayid Lighthouse has a six-sided gallery deck topped with a red lantern room and copula. 
The Chawa Viewing Deck is an observation platform located between Mahatao and Basco. It has a curvy and narrow staircase leading to the stunning turquoise seascape. 
San Carlos Borromeo Church
The Catholic church of San Carlos Borromeo was erected in 1787 using light materials and went through some renovations. This Baroque-style architecture was devoted to the patron saint of Mahatao, Saint Charles Borromeo. 
Beside the Mahatao Church is a library called Maywang A Libro Du Ivatan or the Blank Book Archive. The library shelves cases of hardbound books with blank pages where visitors can pen their thoughts. 
05:30 pm – 07:30 pm Head to accommodation, have dinner
07:30 pm Sleep
Day 2 - Basco Town Proper
08:00 am – 12:00 pm Cycling around Basco, shop for souvenirs, and have lunch
Named after a former Spanish ruler, Basco is the capital and the gateway to Batanes. The idyllic town has a land area of 49.46 square kilometers, which makes Basco easy to roam. 
In 2018, I spent PHP 8,375.00 for the three days and two nights in Batanes. However, costs may still vary depending on your travel lifestyle. For more thrift tips, consider several ways to save money for your next trip.
Below is the Batanes Travel Guide budget for your reference.
Round trip airfare, Manila to Batanes, PHP 3,800.00
3D2N accommodation with complimentary airport shuttle PHP 1,600.00/2 pax, PHP 800.00
North Batan Tour via tricycle, PHP 1,000.00/2 pax, PHP 500.00   
Sabtang Island Tour via tricycle, PHP 1,350.00/2 pax, PHP 675.00
South Batan Tour via tricycle, PHP 1,500.00/2 pax, PHP 750.00
Breakfast, PHP 100.00
Eco-Tourism fee, PHP 350.00
Batan tourism fee, PHP 100.00
Lunch, PHP 100.00
Dinner, PHP 100.00
Breakfast, PHP 100.00
Accommodation to Ivana Port via tricycle, PHP 125.00
Ivana Port to Sabtang Port via faluwa, PHP 75.00
Sabtang Island tourism fee, PHP 200.00
Lunch, PHP 100.00
Sabtang Port to Ivana Port via faluwa, PHP 75.00
Dinner, PHP 100.00
Breakfast, PHP 100.00
Bicycle rental for 5 hours, PHP 125.00
Lunch, PHP 100.00
Batanes Travel Guide Resources
I have compiled handpicked resources to help you plan your trip. These are the brands that I highly recommend for their top-notch offers. 
Looking for an easy-peasy solution to process your visa application and other travel docs, consult iVisa!
SafetyWing is your safeguard for travel medical and health insurance solutions while away from home. 
The sky is the limit with Skyscanner if you are looking for better and cheaper flight options for your next trip.
Make a reservation to one of the most extensive hotels booking services – Agoda. It offers unmatched hotel deals!
Drive your way to undiscovered places! Book a car via Discover Cars and experience hassle-free road trips. 
Want to visit your favorite theme park or museum? For discounted attraction tickets and tours, look for Klook!
For transfers from point A to point B, go for 12Go! It has extensive coverage of ground transports and ferries, too.
Batanes Travel Guide Quiz: What's the largest island in Batanes?
Please drop your answers or messages in the comment section. Thank you, and see you on the road!
J. Sac is the author of 'Batanes Travel Guide: An Excellent Guide to the World.' He is also the founder of Traveledictorian – a travel blog that publishes well-thought-out travel content. 
His passion for writing, photography, and travel fueled him to explore Asia and the rest of the world. He also plans to undertake humanitarian work in his travels. Read his inspiring story and follow him on social media!
P.S. Subscribe to our newsletter for the newest travel guides and the latest updates in the travel industry.